"The draw of a life of crime for people my age was hard to ignore. I'm lucky I was able to stay on the straight and narrow."
21 Nov, 2023
5 minutes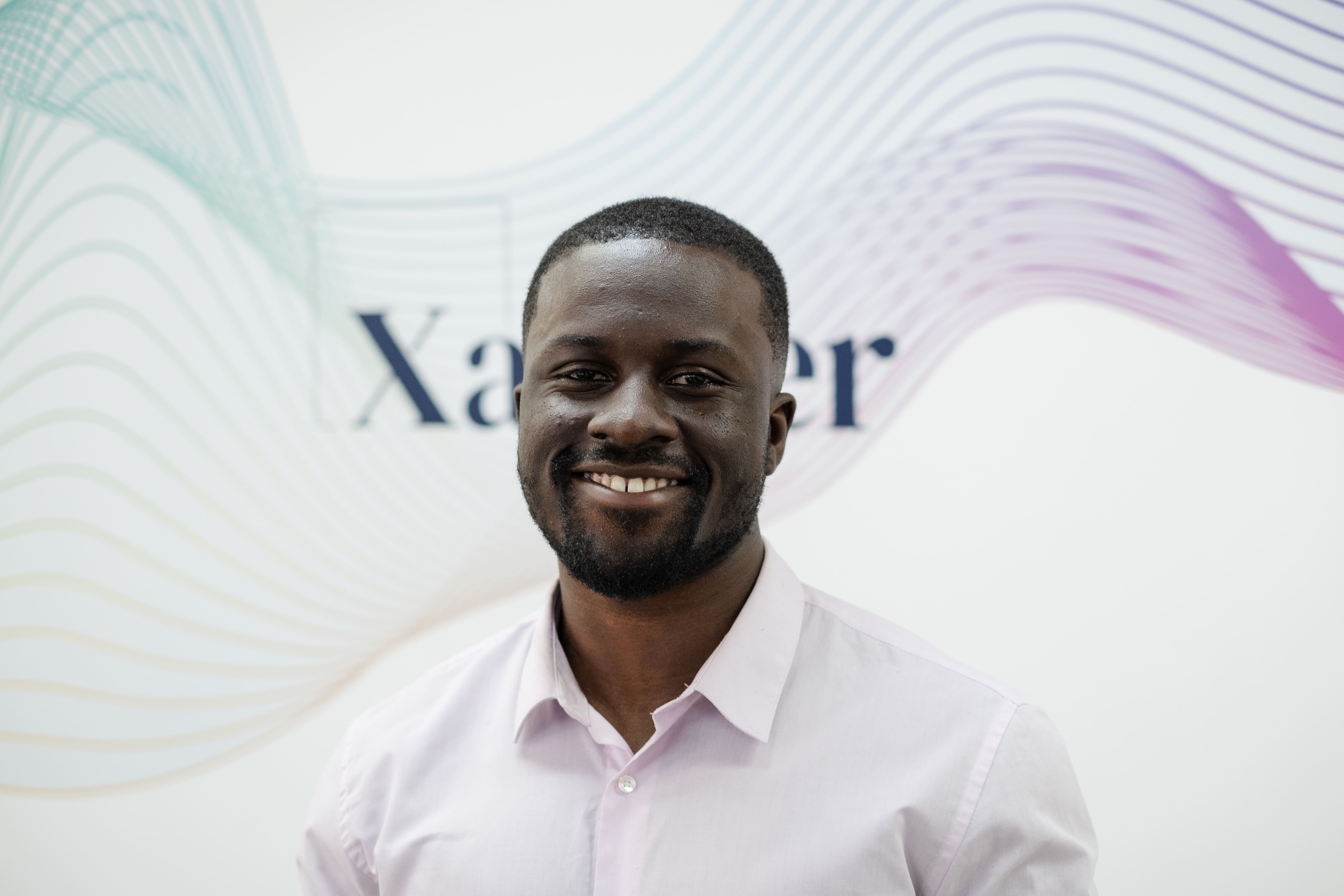 Meet Prince. Podcast host, American footballer, Churchgoer, Xander consultant. He's had an unorthodox route into the world of engineering – from humble beginnings in Hackney to Xander, via Luton, where crime and lack of opportunity went hand-in-hand growing up. University didn't go to plan, but he hasn't let that define his him. With determination and resilience, passed down from the hard-working family members he grew up idolising, he has found his footing at Xander to retrain as a Quantexa Data Engineer.
Where did you grow up, Prince?
  
"I was born in Hackney to a chef and a bus driver. I wouldn't describe the environment I was born into as the perfect incubator for a bright future in engineering. At the time, Hackney wasn't the place as we know it today. Gentrification has taken a hold since then.
It was a place characterised by high crime rates and a demographic of people who are less-off, in a time when Hackney was more synonymous with urban decay rather than a thriving neighbourhood. This led my family to seek greener pastures, and we moved to Luton in 2004. Luton, albeit safer, had its own set of challenges like knife crime and radicalisation throughout my childhood and adolescence.
Crime, poverty and lack of opportunity were prevalent, and the draw of a life of crime for people my age was there. If I'm completely honest, I'm lucky I was able to stay on the straight and narrow, but I'm thankful I did as I now do exactly what I love.
My Christian upbringing certainly had a positive impact on me as I was able to keep myself busy by taking up many different roles in the church, which kept me off the streets, and brought me closer to God."
Who were your role models growing up?
"Despite not living with my father throughout my teens and adolescence, Luton had a strong Ghanaian community so there were a lot of male role models in my life who had a positive impact on me. Something that, upon reflection, saved me from seeking father figures through gang affiliation.
My high school offered GCSE Computer Science, and with that my love for computers blossomed. Admittedly, I was drawn to Computer Science because it sounded cool and was the most enjoyable lesson I had on the timetable, with the teachers letting us play computer games. The ironic thing was that even though we were playing games this helped to make me become more computer savvy as I spent the time battling firewalls – successfully, may I add!
As the years progressed, and classes became more content focused rather than game focused, I found it to be the one subject in school where I'd find myself researching the content outside of school and working on it in my free time.
My two computer science teachers were the first black men I'd met who shared my passion for computers. They acted as mentors to me and gave me the confidence to feel there was place for me in this industry.
I had plenty of role models in my immediate family, who had come from Africa and forged a better life for their families through hard work and resilience. From them I learnt that work ethic and dedication are transferrable in any industry."
What did you do before joining Xander?
"I studied Maths, Further Maths and Computer Science. These were my greatest passions at the time. They still are.
After completing my A Levels, I took a gap year, during which I worked as a freelance web developer, mostly for non-profit organisations looking to build recognition and/or acquire funding.
I attended the University of Birmingham to study Maths and Computer Science, but I didn't complete my studies due to several personal complications, however, an internship at Wells Fargo put me back on the right track. I was given my first taste of what the software engineering industry was truly like.
This gave me the confidence to take the leap into software development, putting to use my years of experience writing code in my free time."
Why Xander?
"Despite my placement at Wells Fargo giving me the confidence in my coding ability, the placement also highlighted the gaps in my software engineering skillset.
I knew the importance of finding a role where there would be an emphasis on providing training to supplement my existing knowledge of software development. Xander offered exactly that training opportunity, specialising in Quantexa Data Engineering.
I didn't know anything about Scala, Spark or even Quantexa, however, I knew I had the capability and work ethic to complete the required learning.
Xander's B Corporation status and dedication to positive social impact was something that resonated with me as I have always liked doing work for the greater good. I did private maths tutoring for 8 years for free (that's right!), so knowing my company would share similar ethics to me was a big plus.
Admittedly, I had never heard of Quantexa at the time Xander showed up on my LinkedIn but in doing my research into the software before submitting my application, I became very interested in the technology as the use cases were very versatile and was being utilised by major companies to solve big world problems. After my time at Wells Fargo, I was also very interested in staying in financial services and Quantexa Engineering felt like a perfect fit."
What message do you have to others with a similar background looking to break into the industry?
"Do your best to stay out of trouble. It can come knocking on your door, and trust me it has knocked on mine. Some things just aren't worth the risk of a criminal record or, even worse, losing your life.
These problems may exist in the area you're living in, but they are minuscule in comparison to the real world outside of that bubble you live in.
Stay away from the wrong crowds. Having mentors within my church and extended family kept me on the straight and narrow and helped me to avoid following some of the bad influences which were in abundance at the time.
Also, look out for opportunities in higher education, including open days and mentoring schemes - they can really help you solidify your understanding of what it would be like to study certain courses at university."
Can you tell us about these schemes?
"I joined a higher education mentoring scheme for young black and minority ethnic sixth form students, called Target Oxbridge, which showed me I had the potential to make it into some of the most competitive universities and opportunities this country has to offer, without my culture or upbringing being a barrier. That was really empowering.
This programme transformed my self-esteem and showed me there was more to life than Luton, and allowed me to network with people my age who were actively trying to change the world, inspiring me to do the same.
Many of the events during this programme took place in buildings such as the JP Morgan, Latham & Watkins and Clifford Chance offices, so when it was time for me to enter the workforce and work in a setting similar to Wells Fargo or Quantexa, my feelings of imposter syndrome were not as prominent.
I'd also advise people to always be on the lookout as there are many internships and corporate schemes which invite young people into their doors to gain experience.
My Sixth Form Computer Science teacher recommended I join a government funded programme, called Join Cyber Discovery, created to teach teens Cyber Security skills. To this day, it is the best course I have completed as it taught me so much about computer and network security, topics which I have now given numerous presentations on."
You also host your own podcast. Can you tell us a bit about that and your inspiration for starting this project?
"My inspiration for starting Project Noir came about during the Black Lives Matter movement during the pandemic back in 2020, and that's when I became really enthused with black history and learning about my ancestors.
During this surge in pro-blackness worldwide, I found myself having interesting conversations with several friends around me, conversations which I felt were different from the mainstream discussions at the time.
I wanted to have these conversations broadcasted on a wider scale, so my friends and I opted to start a podcast to discuss the prevalent issues in the black community, addressing them from the viewpoint of a young adult trying to have an impact on the people around them.
Episodes of the podcast would cover important topics such as mental health and the education system. Some episodes were even dedicated to lesser-known parts of black history including the Black Wall Street in Tulsa and its eventual destruction.
The podcast grew to include two book clubs and an affirmation service, and will be growing the mentoring scheme over the course of the next year.
My hope is that Project Noir and other organisations can help to level the playing field for people like me, to continue to knock down those barriers and allow people to realise a life that has no bounds to the success which can be reached."