Why is no one talking about Black History Month?
26 Oct, 2022
10 mins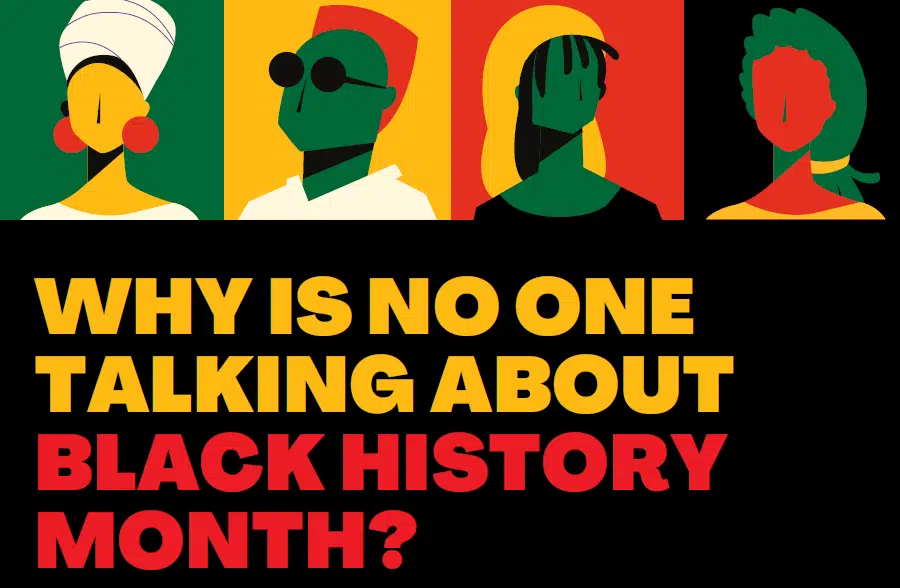 Unless it directly affects you, chances are you didn't know that every October is Breast Cancer Awareness Month, International Walk to School Month, International School Libraries Month, World Blindness Awareness Month and Black History Month.
The theme of BHM this year is "Time for Change: Actions Not Words" but that message is so far removed from what's happening this year it's as if nobody knew what this year's theme was, and that's down to poor organisation and messaging.
The rise of Black Lives Matter
Following on from the Black Lives Matter movements during the pandemic, awareness for the struggle of Black people propelled.
Peaking in June 2020, the number of Google searches for "Black Lives Matter" skyrocketed worldwide, spurred on by the murder of George Floyd. By the end of 2020 interest in the movement had quickly fizzled out and it was no longer much of a point of discussion.
That's not to say that interest in the lives of Black people has declined. Quite the opposite in fact.
Data for "Black History Month" shows BLM movement searches worldwide have increased, with the usual spikes in February and October increasing quite significantly year on year in the past five years.
BHM is being sought after more heavily than before and yet this year it feels… different. It feels like there's hardly anybody speaking about BHM this year?
Where have all the ads gone?
I've only seen one piece of advertising in London since the start of October. It was as I was coming out of Hendon Central station and it was a poster promoting a BHM event – that was on the 13th October.
And yet, no matter how many times I google it, I am still yet to see a single targeted advert discussing Black History Month on social media (but I can talk to a friend about how I haven't mowed my garden in ages and since then I've had more ads for a new lawnmower than I know what to do with). The other day I googled storage units in my area and next thing I was getting TikTok ads from Big Yellow.
It makes me wonder: Why have we stopped talking about Black History Month?
Let's look at Pride Month. This is a month of celebration designed to raise awareness for the LGBT+ community. You can't miss it. Even when I went to my local gym there was a huge Pride flag hanging right in the middle of the gym floor and I thought that was impressive to see.
Fast forward to October though and my local gym doesn't even have "Happy Black History Month" scribbled on a whiteboard. Not a single email I've received from any organisation makes mention of it, too.
Have you received an email or newsletter from a company to say they stand in solidarity with their Black brethren? Have you seen any business change the colours of their logo or add any sort of message or hashtag to their branding in support of BHM. When you scroll through your LinkedIn, can you see any mention of BHM?
The silence is deafening.
USA v UK
Black History Month is magnified far more by America; their BHM is celebrated in February, the UK celebrates it in October. Just the other day I was in the office talking to colleagues about it and one of my Black colleagues told me she thought the UK's BHM was in February. I had to correct them.
If many people in the UK are under this assumption, then it makes sense why our actual month doesn't see much activity. I recall paying extra attention to BHM in February this year – There was more mention of it across my social media feed, but it was still lacking in comparison to Pride Month later in the year.
Is there a misunderstanding of what Black History Month is about?
Thanks to popular media BHM is commonly associated with slavery in America and the Civil Rights Movement that eventually ended segregation in America. The UK's ties to Black history, however, run extremely deep.
BHM is more than just highlighting struggle but also celebrating achievements and growth. British music such as Drill is far more popular worldwide than ever before. Black-British actors like Idris Elba (Come on, it's Idris), Letitia Wright (Black Panther), Chiwetel Ejiofor (12 Years a Slave), Naomie Harris (Moonlight), Daniel Kaluuya (Get Out), and John Boyega (Star Wars) are amongst some of the best in the game.
The growing fear of Cancel Culture
Is BHM an occasion that businesses just aren't sure how to navigate? With political correctness and cancel culture being more prevalent than ever it could be that companies don't want to fall foul of the people they're trying to help. There have been some marketing blunders in the past to do with race, such as H&Ms "coolest monkey in the jungle" post.
Some marketers have the best of intentions when coming up with cool and creative ways to capture their audience but with a topic as sensitive as race a well-meaning message could easily backfire. That could be a reason why we don't see companies daring to go near the race issue.
It can be harder for non-Black people to talk about it, particularly when they don't know much about it. There's hardly any incentive to do so either. What immediate benefit is there for one White colleague to speak to another White colleague about BHM?
Here's a thought: could it be that BHM is recognised less in the UK because racism isn't viewed the same way as it is in America?
Many Black people in the UK can attest to this but racism is far more covert and implicit in the UK than it is in America. It's so rare to hear of police officers killing Black people.
Racial slurs towards black people in the UK is rife, however, particularly in competitive sport. Recently, Brentford FC footballer Ivan Toney was called a "Black ****" via private message on his Instagram page.
Little things from saying Afros and Braids are unprofessional hairstyles for the workplace or having security guards following us around the shop, to being told we're attractive "for a black guy or girl" or touching our hair without permission is still happening today.
I only found out a couple of weeks ago that there's a Black History Month website and it's the go-to place for all news BHM. That's an extremely powerful and critical resource to have but I haven't seen a single mention of them anywhere on my social media. They need to be throwing some money behind Google AdSense and increasing their digital footprint!
The same goes for organisers of BHM events. Word of mouth, a couple of social media posts and some flyers – It's not enough. Substantial money and effort need to be invested into spreading word of the cause.
BHM in the UK doesn't receive the attention it deserves and it's up to us to figure out how to remedy it. Without action, we will be at of risk of Black History Month becoming a relic of a bygone era without achieving what it initially set out to do.
Black history is British history, and therefore should be valued as such. We need to come together to embrace, educate, celebrate, and elevate it.
"Time for Change: Action Not Words" couldn't be a truer statement.